NEWPORT, RI - Jason H. Hoeppner, a consultant at B. H. Burke & Co., Inc. in Westbrook, CT, was recently promoted to Commander in the U. S. Navy Reserves. Jason is a member of the United States Forces - Korea, Detachment 102 in Newport, RI.
Jason graduated from the United States Naval Academy in 1994 and has served 9 years on active duty. He has been stationed in Yokosuka, Japan; Orlando, Florida; Ballston Spa, New York; Norfolk, Virginia; San Diego, California; and Valparaiso, Chile, serving in USS Bunker Hill (CG-52), USS John C. Stennis (CVN-74), AP-46 Almirante Viel (an icebreaker), and DLH-10 Cochrane. Jason entered the Navy Reserves in 2003 and joined a detachment of the Office of Naval Research / Naval Research Laboratories Science and Technology, in which he served in numerous positions including Executive Officer. He was recalled to active duty in 2008 to serve in the Combined Joint Task Force, Horn of Africa (CJTF-HOA) in Djibouti, Africa. While in Djibouti, he directed the Joint Operations Center as the J-33 Current Operations Officer.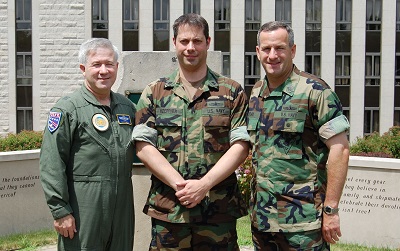 CDR Jason Hoeppner (center) along with BGen Keith Kries, USAF, Deputy Assistant Chief of Staff for Operations, United Nations Command (UNC) and United States Forces Korea (USFK), and CDR Ted LeClair, Commanding Officer, USFK Det 102, at the Naval War College in Newport, RI.
---